You might have heard about our new XG-7100 Desktop Netgate® Security Gateway Appliance with pfSense® software. It was mentioned in our May and June Newsletters. For a quick synopsis, read on…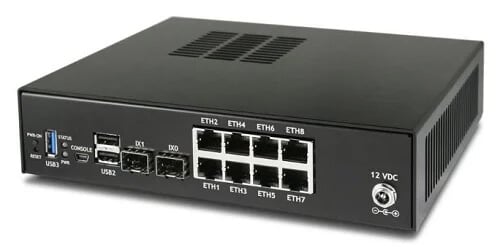 Like previous Netgate appliances, the XG-7100 is available as both a top-of-the-line desktop, and the entry model for our 1U rack-mountable systems. Like the XG-7100 1U, this desktop requires active cooling and has a single low-noise fan. The fan noise is minimal but depending on your noise sensitivity, it may be more suitable for your IT closet rather than beside your workstation.
It's designed for small to medium business (SMB) buyers, or managed service providers (MSPs) serving SMB clients, who want the power of a pfSense stateful packet filtering firewall, LAN or WAN router, VPN Appliance, DHCP Server, DNS Server features, but also need:
increased bandwidth capacity relative to our other desktop products
1 GbE RJ-45 and 10 GbE SFP+ connectivity
memory expansion flexibility for memory intensive applications
The XG-7100 Desktop is equipped with (8) 1 Gbps switched Ethernet ports and (2) Intel® 10 Gbps SFP+ interfaces, and packs a punch with a quad core Intel Atom C3558 CPU including support for QuickAssist and AES-NI. It has 8GB DDR4 RAM, and is upgradeable to 24GB. This represents a significant processor / memory upgrade relative to the previous desktop appliances - which were Intel C2000 / DDR3-based. Product specifications and documentation are available for your reference.
Best of all, it will be priced at $899 USD with upgrade options available. We are taking pre-orders now with an expected ship date of July 16, 2018.