pfSense Plus Training and Certification
Netgate® offers in-depth courses and certifications that help you maintain or improve the knowledge of our products and services.
As the primary developer, sponsor, and official host of the pfSense® project, Netgate offers the only authorized training and certification on pfSense software. When you need to maintain or improve the security skills of your staff or offer highly specialized support to improve your customer satisfaction, Netgate is your best choice.
pfSense Plus Fundamentals and Practical Application
The pfSense Plus Fundamentals and Practical Application certification course is a multiple-part exercise designed to help you manage and maintain your network using pfSense Plus as one of the core elements. This course will allow you to take part in a self-paced, online study of relevant materials followed by a multiple-choice exam and proctored, real-world scenarios using virtual interactive lab environments if you elect to get certified.
The training curriculum covers all the most widely used portions of the base system. We talk about common usage scenarios, deployment considerations, step-by-step configuration guidance, and best practices for the deployment of your pfSense Plus firewall. Further, the videos also cover the advanced topics of Multi-WAN, VLAN's, High Availability (HA), and other essentials. When it's over, you walk away with practical skills applicable to the real world.
Click the "Curriculum" tab above to get started with the free coursework. Once you feel you are ready to get certified, you can start the process here.
Prerequisites: Attendees should have a basic understanding of networking and firewalls. A basic level of familiarity with pfSense software is strongly suggested.
Videos
Introduction to pfSense Plus
Project history and overview, hardware selection, etc. Also covers installation, GUI backup, and upgrades.
---
The Firewall - Interfaces, VIPs, and Rules
Basic rules, aliases, best practices, interface grouping, and advanced firewall options.
---
NAT 101 - Network Translation
Interaction with firewall rules, port forwards, 1:1 NAT, and outbound network address translation.
---
pfSense Plus Services
DHCP and relay, DNS forwarding, dynamic DNS, SNMP, NTP server, and more.
---
VPNs and IPsec
General VPN overview, selecting the appropriate VPN, Introduction to IPsec, when you would use it, and deployment concepts.
---
---
OpenVPN
Introduction to OpenVPN, strengths, and weaknesses, and why you might use it. Overview of site-to-site as well as remote-access roles.
---
Multi-WAN
Overview, best practices, failover and load balancing, policy routing, advanced options.
---
Traffic Shaping
Using limiters and the ALTQ shaper to enhance the handling of traffic flows.
---
High Availability
Overview, network design considerations, basic CARP configuration, state synchronization, and configuration synchronization. Single and Multi-WAN configurations.
---
Other Features
System monitoring and logging, package system overview, other technologies from Netgate.
Supporting Documentation
Introduction to pfSense Plus
The Firewall - Interfaces, VIPs, and Rules
NAT 101 - Network Translation
Services
VPNs and IPsec
OpenVPN
Multi-WAN
Traffic Shaping
High Availability
Other Features
The Process
It is important to understand what to expect when forging the path to certification.
Once you have completed the self-paced videos and reviewed the supplemental training material, you are ready to begin!
When you have made the payment for the certification, you will receive an email with a link that will take you to the course. From there, you can begin the 90-question multiple-choice exam. You will have 60 minutes to complete this event. You will be required to score 75% or above in order to graduate to the lab portion of the certification.
If you successfully complete the exam, you will then schedule your lab assignment. This is a two-day event covering nine labs. Each lab session is limited to 20 participants and is on a first-come-first-served basis. Please schedule your lab days when you know you will be able to dedicate your full attention to the exercise.
You should receive an email from the instructor 24-48 hours prior to the start of your first lab day. This email will contain instructions on how to join the classroom and documentation on how to complete the labs. If you do not see this email the day before your labs start, please contact certification@netgate.com with your name and email address so that we may follow up. You also should check your spam folders to ensure it wasn't lost.
On day one, you will complete labs 1-5 and pause. The instructor will grade your progress. If you pass, you will be allowed to continue to lab 6. When complete, the instructor will grade lab 6. A passing grade means you can return the following day to complete labs 7-9.
Upon completion of labs 7-9 with a passing score, you will have achieved your certification for pfSense Plus Fundamentals and Practical Application!
Language
Training materials and certification are offered in English. Fluency in written and spoken English is required.
System Requirements
Computer: PC or Mac
OS: Windows, OS X, Linux*
Browser: Recently updated Google Chrome, Firefox, Safari
Installed Software: PDF Viewer, OpenVPN Client (PC or Mac), VNC client**, an SSH client.
Hardware: Headset with microphone

* Some linux systems have problems with audio. Because this is an interactive class, Linux users must ensure that their audio is fully functional
** OS X users may use the built-in VNC client in Finder (Command-K and vnc://user@IP). Other free PC options are UltraVNC, RealVNC, etc.
Is there a fee for this certification?
Yes. There is a fee for the certification. This fee covers the multiple-choice exam and labs that are included in the package. The training materials (videos, documentation) are FREE and you can take advantage of those at any time.
How do I prepare for the exam?
The pfSense Plus Fundamentals and Practical Application certification course covers a broad range of topics, to include the basic network knowledge required to administer a Netgate pfSense Plus security appliance, firewall functions, NAT, various services available with pfSense Plus, VPN, multi-WAN, VLANs, high-availability, and more.
In order to prepare for the multiple-choice exam and lab scenario, you should:
Review the training videos at https://info.netgate.com/pfsenseplus-training and the accompanying supplemental documentation
Have a solid foundation in basic networking concepts
Experience using pfSense Plus is recommended
Set aside 60 minutes to take the multiple-choice exam
Schedule 2 days to take the lab portion of the certification exam
Are there any prerequisites for taking this exam?
Those wishing to take part in the certification process should have a basic understanding of networking and firewalls. A basic understanding of pfSense Plus is also recommended.
As the certification is 100% online, you will need access to a computer and a reliable Internet connection. Access to the learning portal has been tested with the Chrome browser.
The course, exam and lab are all provided in English. Other languages are not available at this time.
What score is required to pass the exam?
There are two parts to the exam: A multiple-choice quiz and a virtual lab assignment.
A score of 75% is required to pass the multiple-choice exam.
The labs are PASS/FAIL and are not assigned a numerical grade. If you do not pass any section of the lab, you will need to retake the test as that is considered a failing grade.
Can I use reference materials during the exam?
You are not permitted to use reference material during the exam. The exam is timed and you are limited to 60 minutes on the multiple-choice exam portion. Please note that the proctor cannot answer questions related to the exam or lab content and will only be able to address technical difficulties.
When will I get my exam results?
You will receive your score on the multiple-choice exam immediately after completion. You will receive your lab grade once the instructor evaluates your results. That is usually within 24 hours of completing the lab in its entirety.
Will I receive a certificate of completion if I pass the course?
Yes! We're excited to announce that all students who achieve a passing grade in the course will receive a personalized certificate from Netgate that includes your name, the issue date, and expiration date. You will be able to download and print that certificate once all sections of the course have been completed and graded.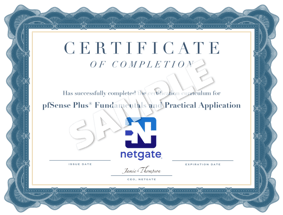 How can my employer verify that I have completed the certification course?
Your employer or customer can validate your active certification by sending an email to certification@netgate.com with your name and email address. We will confirm whether or not your certification is active or not. We will not provide any other information.
How long are my certifications from Netgate valid?
Your certifications from Netgate are valid for one year. You will receive a notice 30 days before your certification expires so that you may begin the process to recertify based on changes to the software and the exam.
If I fail the exam, can I retake it?
Yes. If you fail the exam (multiple choice or lab) you are eligible for a one-time retake at no cost. Subsequent retakes will be at full price. Lab availability is on a first-come/first-served basis. If you fail the certification and wish to retake, please email certification@netgate.com with the details of your exam and we can facilitate the second attempt.
Can I get a list of the questions and answers to see what I got wrong?
In order to maintain the integrity of the certification process, we do not provide detailed results of the multiple-choice exam.
What is your refund policy?
There are no refunds on certifications or exams.
How can I purchase multiple seats for the certification and lab?
If you need to purchase 2 or more certification exams for your organization, please email certification@netgate.com with the names and email address of ALL participants. Our sales team will be happy to create an invoice and add those registrations to the learning management system. Otherwise, each person should purchase a registration separately.
What happens if I am not able to make the scheduled lab day due to unforeseen circumstances?
If you are unable to meet your pre-arranged lab obligations, it is your responsibility to notify us by sending an email to certification@netgate.com letting us know that you will be absent. We will work with you to reschedule the lab portion of the certification based on the dates available.
Will a proctor monitor me while I take the exam?
A proctor will be available during the lab portion of the exam. Other than addressing technical difficulties with your connection, access to the material, and general functionality issues, the proctor will not be able to answer questions related to the lab itself.