In 2012, Netgate® forked the pfSense® project to make it easier for us to focus on delivering software tuned specifically for our hardware. Netgate not only sells appliances, but employs several dozen software architects, developers and test engineers - who develop or port software, test, benchmark, contribute to FreeBSD and other open source projects - that ultimately benefit everyone in the ecosystem and community.
Last year we announced we were changing the name of Netgate's fork to pfSense Plus and would make it available for non-Netgate hardware. With the pfSense Plus 22.01 release, we're making the software available under both a no-charge Home or Lab evaluation license, as well as a paid commercial license.
Here is a breakdown of what this means - depending on your current use of pfSense software:
If you have a Netgate appliance, nothing changes for you. If you're running the current version of the pfSense software on your Netgate appliance, you have pfSense Plus software today. You have complimentary pfSense Plus software updates for your appliance for the life of the product. You have complementary TAC Lite support. You can upgrade your technical support subscription based on your business requirements just as before. You are our customer, and we thank you for your purchase and support.
If you are a Netgate TAC customer with an active subscription, you are our customer, and will have access to pfSense Plus software during the full term of your subscription.
If you are not using a Netgate appliance, or do not have an active TAC subscription, you can access pfSense Plus software in two ways:
A no cost, non-commercial Home or Lab license
A paid commercial use license with one of three support options
No pfSense Plus software distribution is allowed with either license.
The terms 'Home' and 'Lab' mean exactly what you would expect:
pfSense Plus Home software is for users who wish to use pfSense Plus in their home to protect themselves and their families
pfSense Plus Lab software is for users with commercial intent, but who first wish to test the product in a non-production lab setup prior to purchasing a commercial license
Users selecting one of these options agree to the terms outlined in the pfSense Plus

Evaluation Agreement
For commercial users (and power users who need 24x7x365 access to Netgate's Technical Assistance Center), we have three pfSense Plus software subscription options to meet your organization's needs:
pfSense Plus software with (new) TAC Lite support
pfSense Plus software with (existing) TAC Pro support
pfSense Plus software with (existing) TAC Enterprise support
Here is a summary chart: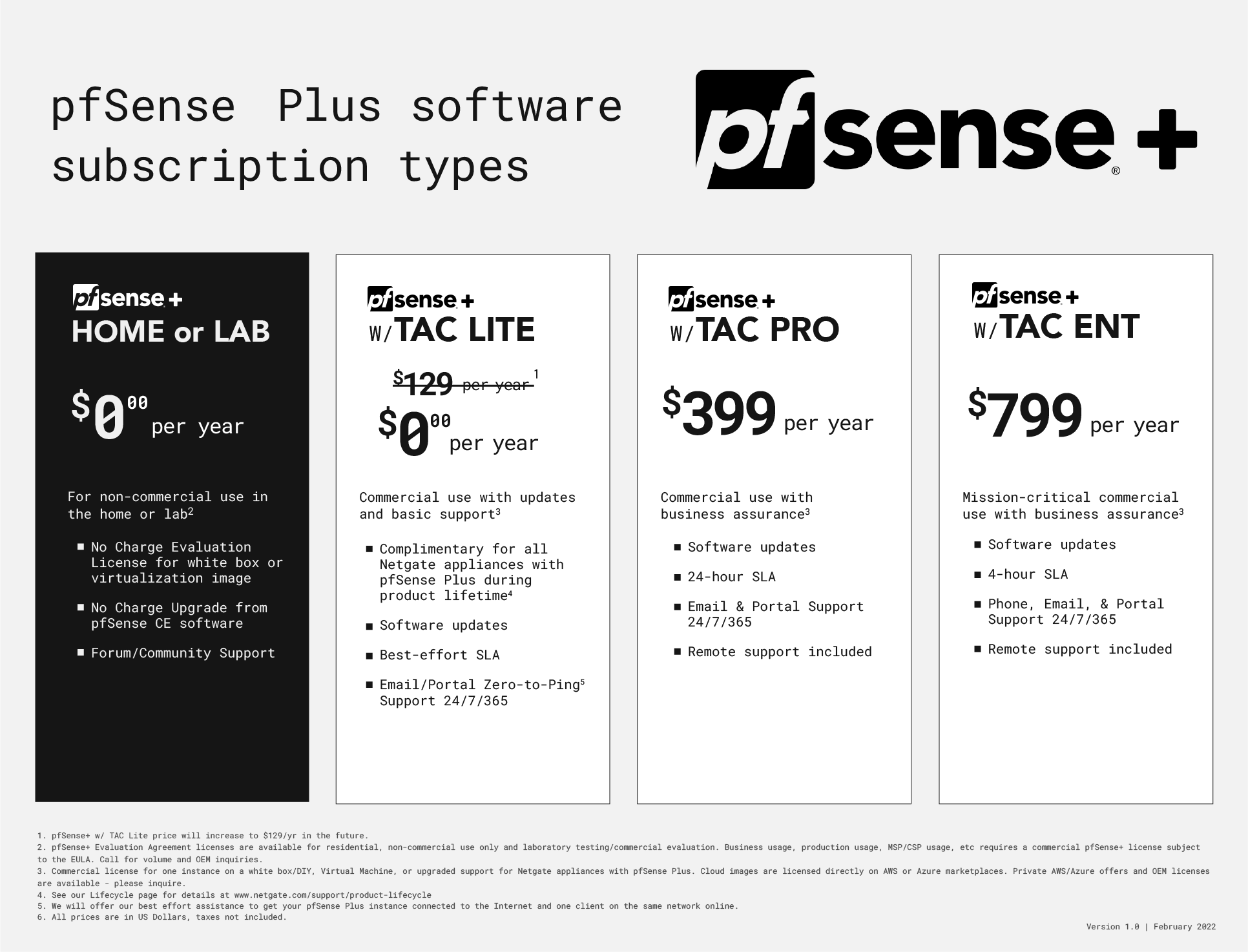 Please call us if you would like to discuss a distribution or OEM license. If you are a non-profit or other qualifying organization or individual, please see the bottom of our subscription page to request a reduced or no-cost license.
Note the pricing for pfSense Plus software with TAC Pro or TAC Enterprise support remains the same as each respective TAC support subscription is priced today. Effectively, this bundles the pfSense Plus software and TAC support together, at no additional cost. In the future, Netgate will phase out TAC support subscriptions associated with pfSense CE software in favor of a bundled software and support subscription approach.
How do you migrate from pfSense CE software to pfSense Plus software? Update your current pfSense CE software instance to pfSense CE 2.6 software, then migrate to pfSense Plus software. The process is outlined here in our documentation. Basically, start the process by upgrading to pfSense CE 2.6, then go to our pfSense+ subscription page to select the pfSense Plus software / support license that best suits your needs. If you have more than 20 units, reach out for bulk processing options.
Do I have to move to pfSense Plus software? Absolutely not. We have more work to do to add additional features - taking pfSense Plus software in new directions. If now is not the right time for you, continue with pfSense CE software. We will work harder to win you over in time.
Finally, thank you. Every day we work to advance our mission: provide fast, safe, and cost-effective connections to the digital world, and progress our vision: secure networking should be a right for all, not a privilege for a few. We do this by 1) developing software that provides valuable network connectivity and security to anyone who wishes to use it, 2) providing appliances that deliver turnkey solution reliability and business assurance to those looking for an uncomplicated manner of deployment, and 3) providing world-class support ready to assist as needed.
We appreciate your ongoing support and patronage as we work to progress our mission and vision for you - our customers. If you have any questions, please feel free to contact us!