TNSR Education
Episode 01. Overview
Overview
Welcome to Netgate's short-form video series designed to address questions commonly asked about TNSR software. In this series, we'll cover TNSR's purpose, intended buyers, applications, architecture, features, deployment options, performance characteristics and more. It's a lot to absorb. So we've broken the story into 3-5 minute vignettes - knowing that our viewers are tech-savvy, busy, and often like to acquire knowledge in their own order of preference. We hope it's helpful. Let's get started.
At its core, TNSR is a high-performance router. On the surface, that may not sound novel or ground-breaking. So let's consider the trends and market forces that got us here.
In the last twenty years or so, routers capable of multi-gigabit throughput have only been available from vendors who packaged them as big-iron hardware appliances - typically underpinned by proprietary, expensive FPGAs or ASICs. Inexpensive and powerful routers were just not able to be built, let alone provided cost-effectively.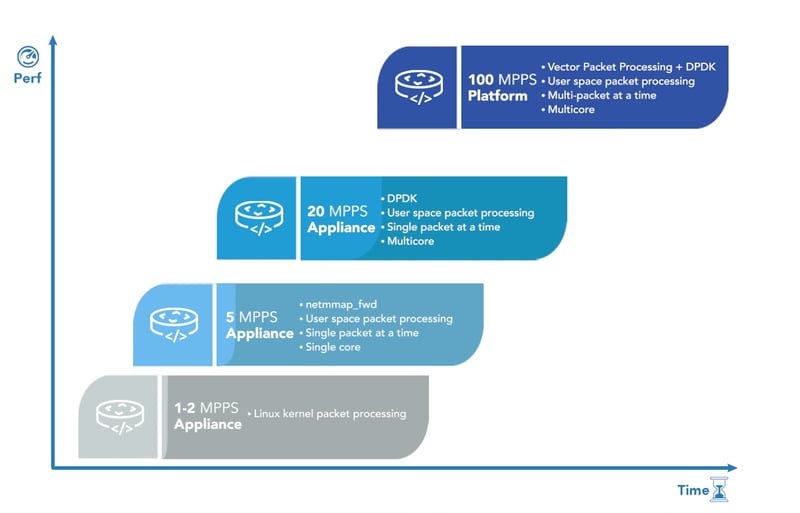 Netgate knows this well. We've sold tens of thousands of routers, and equipped hundreds of thousands of non-Netgate routers with pfSense software for years. We're deployed in WAN edge environments ranging from SMB to enterprise to service provider. Recently, these customers are asking for more packet processing throughput at the WAN edge - obviously driven by less expensive, high-speed internet connections, worker mobility, traffic encryption, and of course, the movement of business applications from on-premises data centers to the cloud.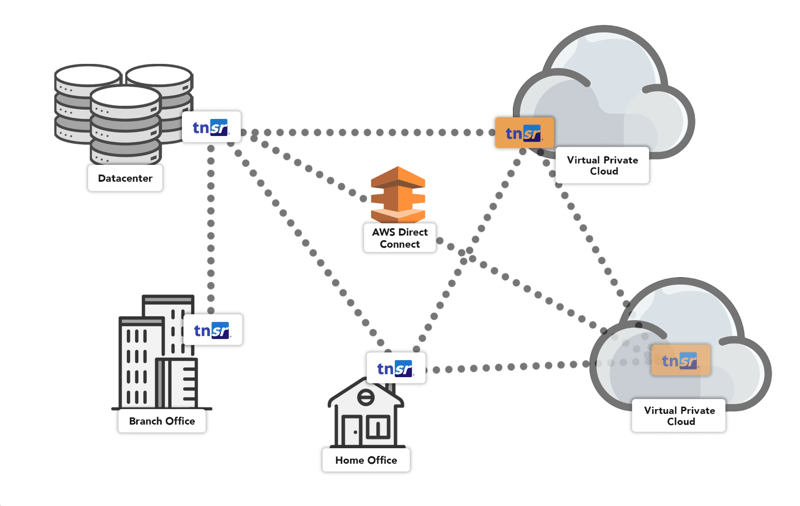 Our approach has never been "big iron ASIC". We've always delivered our value through kernel-based packet processing software on far less expensive commercial-off-the-shelf hardware (or as we say, COTS). And while we've cleverly extracted as much performance as we could from software, it has always had performance limits relative to specialized hardware alternatives.
No more. A new open source packet processing technology - Vector Packet Processing, or VPP came onto the scene a couple of years back. VPP is a game changer. VPP moves packet processing out of the CPU's kernel and into user space - which enables up to a 100X gain in software-based packet processing.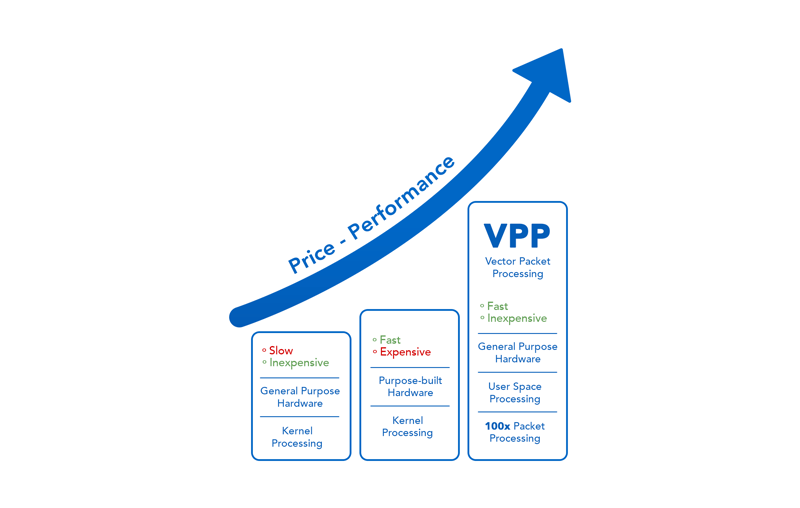 But VPP itself is just an open-source project - not a feature complete router - let alone an enterprise or service provider class router ready for demanding commercial environments.
Just as we moved the pfSense project from a few thousand users 8 years ago to over a million instance downloads, Netgate is doing the same for VPP. TNSR takes VPP - and a number of other open source project code bases - adds features and fixes, integrates, tests, and packages it into an enterprise and service provider-class router. As a result, businesses and service providers now have a pathway to high performance software based routing - while spending far less of their precious secure networking budget than with traditional legacy brands - especially as feature or scale needs evolve.
And with high-performance routing at its core, TNSR addresses many digital transformation secure networking needs - including High-performance Edge Routing, High-throughput Site-to-Site IPsec VPN, High-speed Cloud Connectivity, IPv4 Address Space Exhaustion and more - each with stellar performance and easy scalability.

If you want to stay up-to-date on the latest TNSR content releases and news subscribe below.