Technical Paper
pfSense Console Menu – Part 1
7 Tricks You May Not Know About
The pfSense® webConfigurator is so easy to use, you might not know how powerful the console menu is. In this edition of the Why To Series, we'll discuss some options that you might not know are there.
Whether you're using a serial connection or a VGA/HDMI connection, the menu is the same. As shown below, there are 17 (0-16) options on the menu. In this edition, we'll talk about the most common ones.
If you're using a serial connection and need help connecting, we have instructions on our website. Here is an example of connecting to the console port for the SG-3100. Be sure to look at the Quick Start Guide for your Netgate® product to get complete instructions.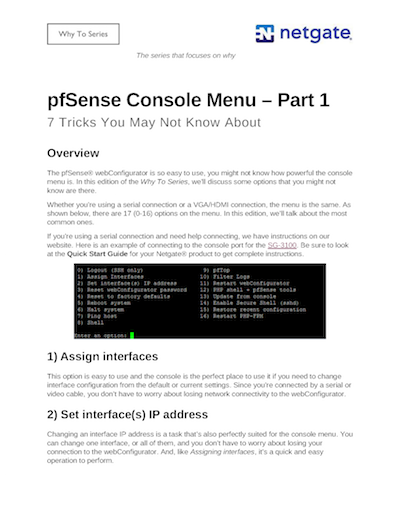 Get the Technical Paper Here
Download Now