Netgate is excited to announce two key changes to our product purchasing experience.
INTRODUCING A BRAND NEW STORE EXPERIENCE!
While our prior store has served us well for many years, our business continues to grow and evolve. We're excited to announce a new store - one that provides our customers with a clean, modern, and streamlined shopping experience.
Here is a simple 4-step process to get started with your first order:
Step 1: Visit shop.netgate.com
Step 2: As this is a completely new store, you will need to create a new account. In the top right corner, click "Create an account" and enter your first name, last name, email address, and password.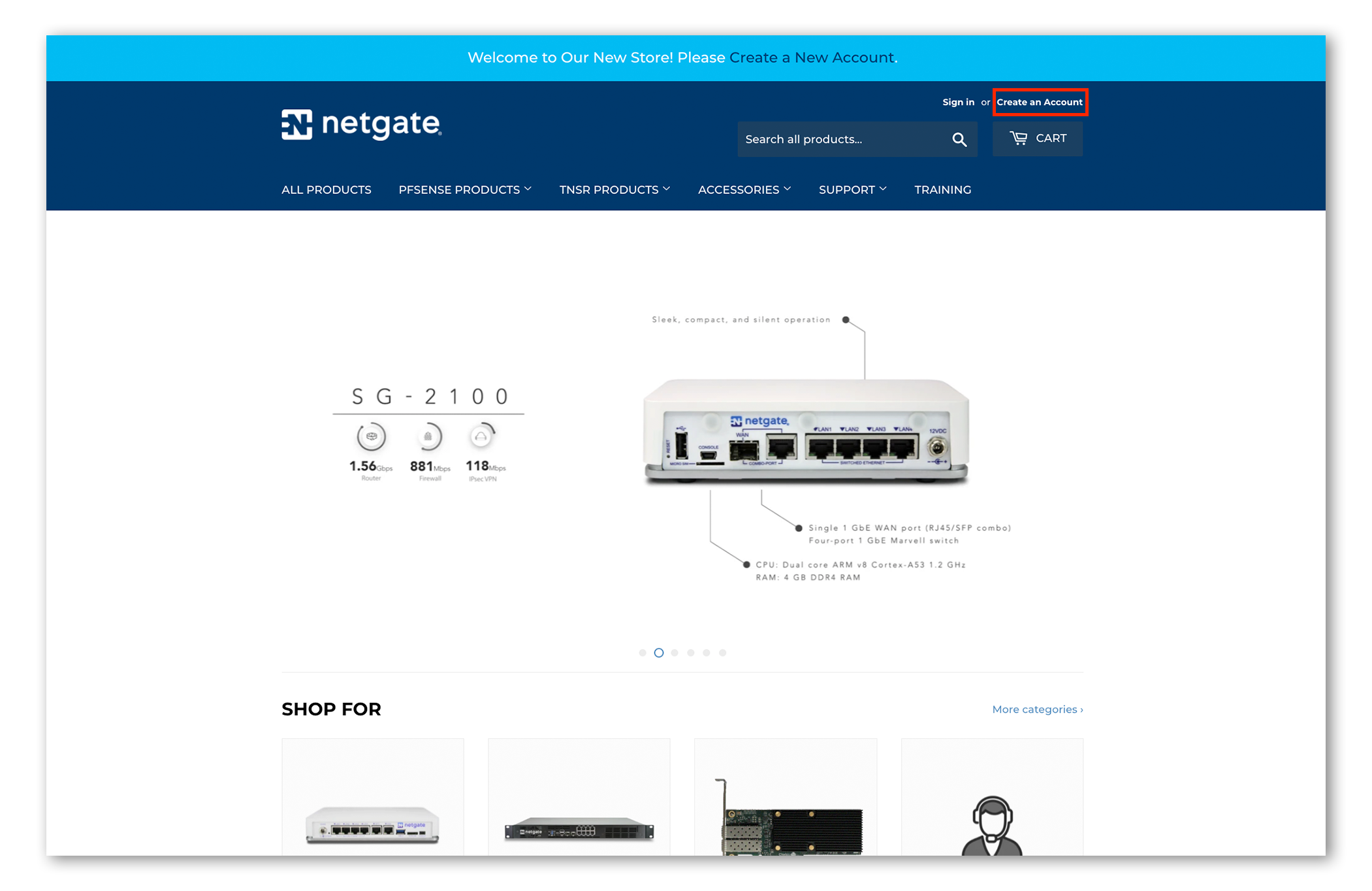 Step 3: Shop the site and build your cart.
One key change from our prior store is the ability to select Standard vs. Expedited build and test for an entire order (during checkout) rather than having to invoke that at the individual product level. That option is available on the cart page. Here is an example view: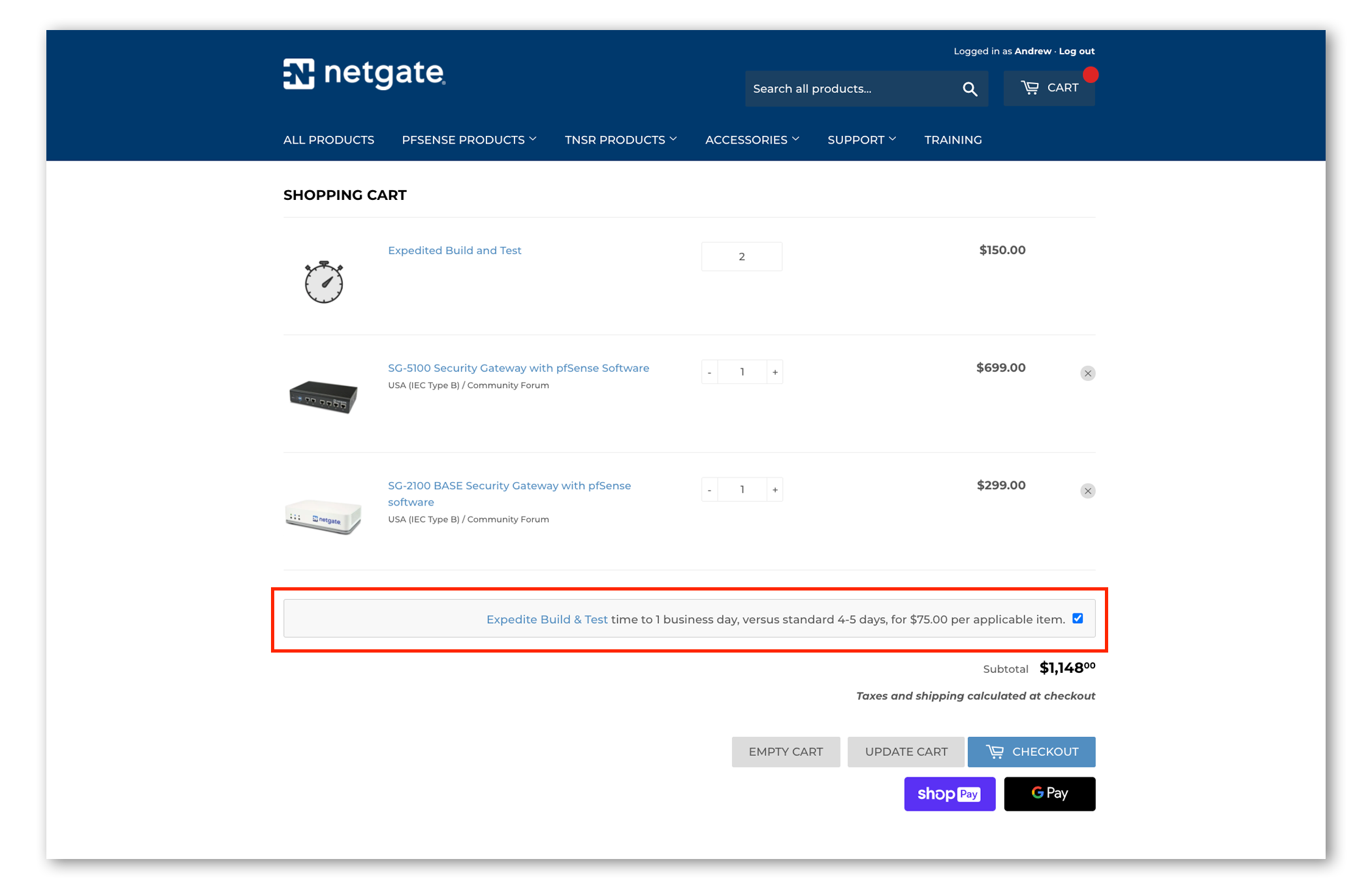 Step 4: Once your cart is ready, click the "Checkout" button. You can also use one of our accelerated checkout options "Shop Pay", "Google Pay", or "Apple Pay" for faster, easier purchasing.
A couple of key things to remember:
If you try to access products on our older store at store.netgate.com, you will be redirected to the nearest relevant page on the new store, shop.netgate.com.
For a short period of time you will still be able to login to store.netgate.com to view and print your previous order history.
Later we'll redirect store.netgate.com to a long-term URL which will allow you to continue to view and print, but not place a new order.
If you get in a bind, just contact Netgate sales support at sales@netgate.com. They will be happy to assist you with order history or other questions you may have.
That's it! Now it's our turn to get busy!
INTRODUCING NEW APPLIANCE ORDERING OPTIONS!
We now have a simplified appliance ordering schema for our customers. Having reviewed our historical customer order preferences, the vast majority of buyers opt for either the lowest or highest amount of storage and RAM - rarely choosing options in between. For order simplification and a cleaner customer shopping experience, Netgate now offers simple "Base" and "Max" configurations for applicable appliances.
Currently, Base and Max ordering options are available for the following Netgate appliances: SG-2100, SG-3100, XG-1537, and XG-1541.
Appliance options for port expansion cards, power cords, and support remain independently selectable for these - and all appliances - just as they have always been.
The following table defines Base and Max on a per appliance basis:
Appliance
Base
Max
SG-2100
Storage: 8 GB eMMC Flash
RAM: 4 GB DDR4
Price: $299
Storage: 32 GB M.2 SATA SSD
RAM: 4 GB DDR4
Price: $342
SG-3100
Storage: 8 GB eMMC Flash
RAM: 2 GB DDR4L
Price: $399
Storage: 32GB M.2 SATA SSD
RAM: 2 GB DDR4L
Price: $442
XG-1537
Storage: 256 GB Micron M.2 SSD
RAM: 8 GB DDR4 UDIMM
Price: $1949
Storage: 256 GB Micron M.2 SSD
RAM: 32GB ECC UDIMM
Price: $2396
XG-1541
Storage: 256 GB Micron M.2 SSD
RAM: 16 GB DDR4 UDIMM
Price: $2649
Storage: 256 GB Micron M.2 SSD
RAM: 32 GB DDR4 RDIMM
Price: $2947
Note that appliance pricing remains unchanged.
For each applicable appliance, the store appliance page presents a selectable Base or Max option box - making it quick and easy to compare the configurations on a price basis.
There are no storage or RAM options available for the SG-1100 or SG-5100, so only one model is available for those two appliances.
Thank you for being a Netgate customer! We hope you find our new store, and appliance ordering options, make it faster and easier to get your secure networking solutions today!